Firm Overview
Founded in Houston in 2005, AtLink Communications is a highly respected business partner that reliably builds and deploys core business software solutions. Over the last 15 years we have developed and deployed business-critical applications in the transportation, aerospace, civil engineering, financial, medical, legal, government, and energy sectors.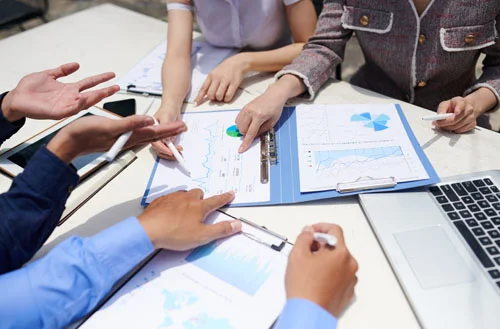 What We Do
AtLink offers our customers an abundance of technical and business proficiency. Our ability and experience translate to added value and peace of mind for our clients. We are experts in efficiently applying software technologies that run today's world such as web applications, cloud infrastructure, and mobile platforms. Our core values are exceptional quality, effective communication, and honest pricing.
Superior Custom Software Solutions
By choosing custom software development services from AtLink, your applications will benefit from being extremely flexible, scalable, and secure.
AtLink Success
AtLink has developed numerous Software Products for the Medical, Finance, Aerospace, and Entertainment Industries. We have over 15 years of experience helping customers achieve their goals through our software services based on a deep understanding of their unique operations, demands, and needs.
Advanced Software
We have thorough experience with the newer technologies that are propelling the world forward, including 3D Visualization, Simulation, Process Automation, and Analytics.
Business Analysis
We will thoroughly examine your project's process, business logic, and software plan to efficiently find the best technological solution for you.
Quality Assurance
We administer strict, thorough and proper QA checks on all our projects to provide quality resolutions from the requirements to the final delivery.
Product Evolution
We help transform our customers businesses with skillful consulting and software development services, making them more competitive in the digital world.
AtLink's Development Process
Our development teams combine seasoned software engineers and architects with specialized practitioners in UX, 3D, and IOT to reliably produce high quality, high-functioning, and visually appealing systems. We conscientiously follow an Agile based Software Development Life Cycle Process that we have refined and improved over the years that allows our projects to more naturally proceed smoothly to completion.

At AtLink Communications, our engineers are passionate about solving complex problems quickly and effectively. We strive on helping our customers grow their businesses, and providing the highest-quality customer experience.
Custom Software Solutions
We design and build Great Software Systems. They're Flexible, Scalable & Secure – They're constructed to Exactly meet your Business and Operational goals.
Dedicated Development Teams
We provide complete software project teams - Software & QA Engineers with Project Management. Our teams are 100% dedicated for work on your project.
Mobile Software Development
Our mobile apps are Beautiful, Multi-Media and run on all Platforms. Created by our expert UI/UX and Native IOS and Android App engineers.
Software Product Development
We have designed and built numerous Software Products for the Medical, Finance, Aerospace, and Entertainment Industries. Our Management team has been in the SW Product Business since the 90's.
Software Modernization
We have been quite adept at modernizing Legacy applications and Systems to current development and architecture technologies. We've modernized products in the Medical, Aerospace and Financial arena.
At AtLink Communications, we want to improve your business in more ways than ever before. You can make modifications as you grow and progress within the industry, scaling to support developing teams, different distribution channels, and changing audience preferences.
Financial
AtLink Provides Custom Solutions to the Financial Industry.
Medical
AtLink has delivered Medical Device software for Class II devices in Thermo Diagnostics, Neurostimulation, and Oxygen Therapy.
Government & Traffic Management
AtLink has provided Texas-based agencies and cities, such as the City of Houston with 3D Traffic Management Simulations and interactive Public Portals.
Aviation
AtLink has fielded Aviation Systems that perform US Air Traffic Control for drones and enforce Federal Airways & Airspace (FA&A) regulations on structures near private and government airways.
Entertainment
AtLink developed MyCut App, the most accessible platform for content creators to receive monetary compensation for their efforts, solving the financial dilemma experienced by many content creators and influencers.
Energy
AtLink has been at the cutting edge of the building and deploying "Digital Oilfield Solutions." These products enable operational efficiencies leading to competitive advantages.
What

Our Clients Are Saying
About Us
When choosing a partner for your company's technical needs, you want the best. AtLink works very closely with our clients to provide high quality and flexible solutions. We are very fortunate to have formed excellent partnerships with many of our clients and proud of the value we've delivered to them. We take the extra steps required to provide the best results. What better proof than seeing what our customers have to say about us!
Axis
Axis Team
At Axis, we have come together for one cause to provide our clients the products necessary to safely operate and maintain their facilities. This mission requires us to build sophisticated and creative tools to solve problems. We have partnered with AtLink on many occasions Their expertise, customer service, delivery of flexible solutions, and 'follow-up' we continue to experience are simply professional and dependable.
Gordon Haave
President, BHFM FMO
The AtLink team is knowledgeable and professional at both the management and technical levels. They've done a great job understanding our business, users, and customers which has really facilitated project success on our key initiatives. They consistently deliver quality systems on time and I would highly recommend AtLink Communications.
James "Chezo" Cesarini
PE, Pro-Surve
We have utilized AtLink now for a good number of years and their IT Services have proven to be consistently responsive, dependable and reliable. They are responsive to any IT issues that arise and maintain communication through resolution. Consider AtLink as your IT service provider to obtain a valuable service at a value.
Indi Wijay
Entrepreneur & CEO MyCut
AtLink is a very smart and efficient group, that has helped us achieve our company goals in a very timely manner!
Robert Kroslowitz
President & CEO, Berlin Heart
The expertise and education that the AtLink team possesses is critical to the daily management of our IT System and preventing disruption in our operations. These individuals who are involved with our company on a daily basis are all rich with talent, experience, creativity, and commitment and have provided superb client support.
Neal Waas
Owner of WagonLab
Instantly after AtLink took over WagonLab's social media, they made me a believer in social media marketing, as our followers and engagement consistently started growing. In fact, within the last 90 days, our reach on our social media pages has increased by 450%. Their support is highly skilled and are always stepping up to the plate to handle new ideas and answer any questions. On top of that, they are just great people to work with. I can't say enough about how good the experience has been working with the AtLink team!